Make Yourself Useful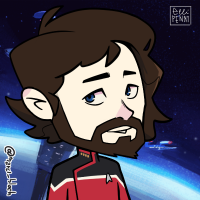 Anth
Member
Promenade, Starbase 27
Lieutenant Tymon Wrex stood at the railing looking over the promenade. He had been on the station for a short duration between assignments. The Reliant wasn't due to report to Starbase 27 for a fortnight.
"We aren't built to wait,' a familiar voice of the eleventh Wrex host spoke, "I know I've only been a part with you for four years, young man but I've known you since you came aboard the Armorica and here we are, in an Terran saying 'attached at the waist'."
The Lieutenant looked over where his brain outputted her to be with her leaning back against the railing. His grandfather had warned him prior to joining with someone he was familiar with beforehand that he would see her construct unlike the previous hosts mostly due to them being close, "I know."
"I'm not sure that you do," Gracja replied coyly.
"Fine," Tymon replied in his thoughts. "I'll volunteer to be useful here on the station."
"Great! Make yourself useful!" Gracja exclaimed and then she was gone.
"Hate it when she does that," Tymon mumbled and tapped his combadge, "+Lieutenant Wrex to Ops.+"